Description
Ár Solais Comhartha Casadh faoi stiúir Suzuki Jimny are brighter than the original halogen and hid headlights. It includes high low beam , white halo drl, amber halo turn signal lights, this will ensure maximum safety while driving at day time and dark night and save a lot of money to buy different function lamps. The high quality clear lens improve the illumination and provides protection for the interior light beams perfectly and give you a new driving lighting experience. These Suzuki Jimny Led Turn Signal Light are designed to be waterproof, shockproof and dust-proof, have efficient heat dissipation and cooling efficiency, more than 50,000 hours of service life.
Specification of Suzuki Jimny Led Turn Signal Light
| | |
| --- | --- |
| Mionsamhail | MS-RN1820 |
| Branda | Morsun |
| Déan Carr | Do Suzuki Jimny 2018 2019 2020 |
| Bhíoma | 3.6W 360LM |
| Halo | Halo bán agus comhartha cas ómra |
| Teocht Dath | 6500K |
| Ábhar Tithíochta | Déan tithíocht alúmanaim bás a chaitheamh |
| Dath Tithíochta | Dubh/Chrome |
| Ábhar Lionsa | PC |
| Ráta Uiscedhíonach | IP67 |
| Deimhnithe | IP67, CE, RoHS |
| Saolré | Níos mó ná 50,000uair an chloig |
| Bharántas | 12 Mhí |
---
Feistiú:
Suzuki Jimny 2018 
Suzuki Jimny 2019 
Suzuki Jimny, 2020
Buntáistí Ár gCórais Soilsithe Gluaisteán
Gile Ard
Is féidir leis an tiománaí an bóthar ar aghaidh a fheiceáil go soiléir nuair a shoilsíonn an solas geal geal an cosán sa dorchadas, is féidir leis seo cabhrú leat sábháilteacht ar bhóithre a mhéadú agus taithí tiomána níos compordaí. Soláthraíonn ár gceannsoilse faoi stiúir an infheictheacht uasta chun an taithí tiomána a fheabhsú agus chun sábháilteacht agus infheictheacht a mhéadú de lá agus d'oíche.
Ábhar Ardchaighdeáin
Cóimhiotal alúmanaim bás-theilgthe, feidhmíocht ard diomailt teasa agus cáilíocht chobhsaí, bhí feidhmíocht róin mhaith mar rubar tiubh comhdhéanta de phlocóid an chábla cumhachta. Is féidir saol seirbhíse fada agus dea-fheidhmíocht ar dheannach uiscedhíonach-cruthúnas ceo, a úsáid i dtimpeallachtaí an-dian.
Suiteáil éasca
Plug and Play, cuibheoir H4 agus H13 san áireamh, de ghnáth laistigh de 30 nóiméad nó níos lú chun an tsuiteáil uasghrádaithe a chríochnú, tá bulit-bulit-chomhtháite ag ár gceannsoilse san fheidhm EMC.
Úsáidí Leathan
Is féidir ár gceannsoilse faoi stiúir go léir a úsáid, ní hamháin ar gach cineál feithicle a úsáideann ceannsoilse 7 orlach, ceannsoilse 9 orlach, ceannsoilse 4×6, 5×7 orlach, ach is féidir iad a úsáid freisin le haghaidh soilse oibre do bháid, tarracóirí, trucailí etc.
Dearbhú cáilíochta
Is é do shástacht ár n-imní is mó. Déanfaimid iniúchadh cáilíochta dúbailte i gcónaí sula gcuirfear na córais soilsithe chuig ár gcustaiméirí.
Saol Seirbhíse Fada
Tá feidhmíocht den scoth ag ár gcórais soilsithe faoi stiúir gluaisteáin, mar shampla frith-turraing, frith-báisteach, frith-ceo, ráta uiscedhíonach IP67, diomailt teasa srl, agus mar sin is féidir ár soilsiú faoi stiúir a úsáid mar chomh fada le 50,000 uair.
Próiseas Táirgthe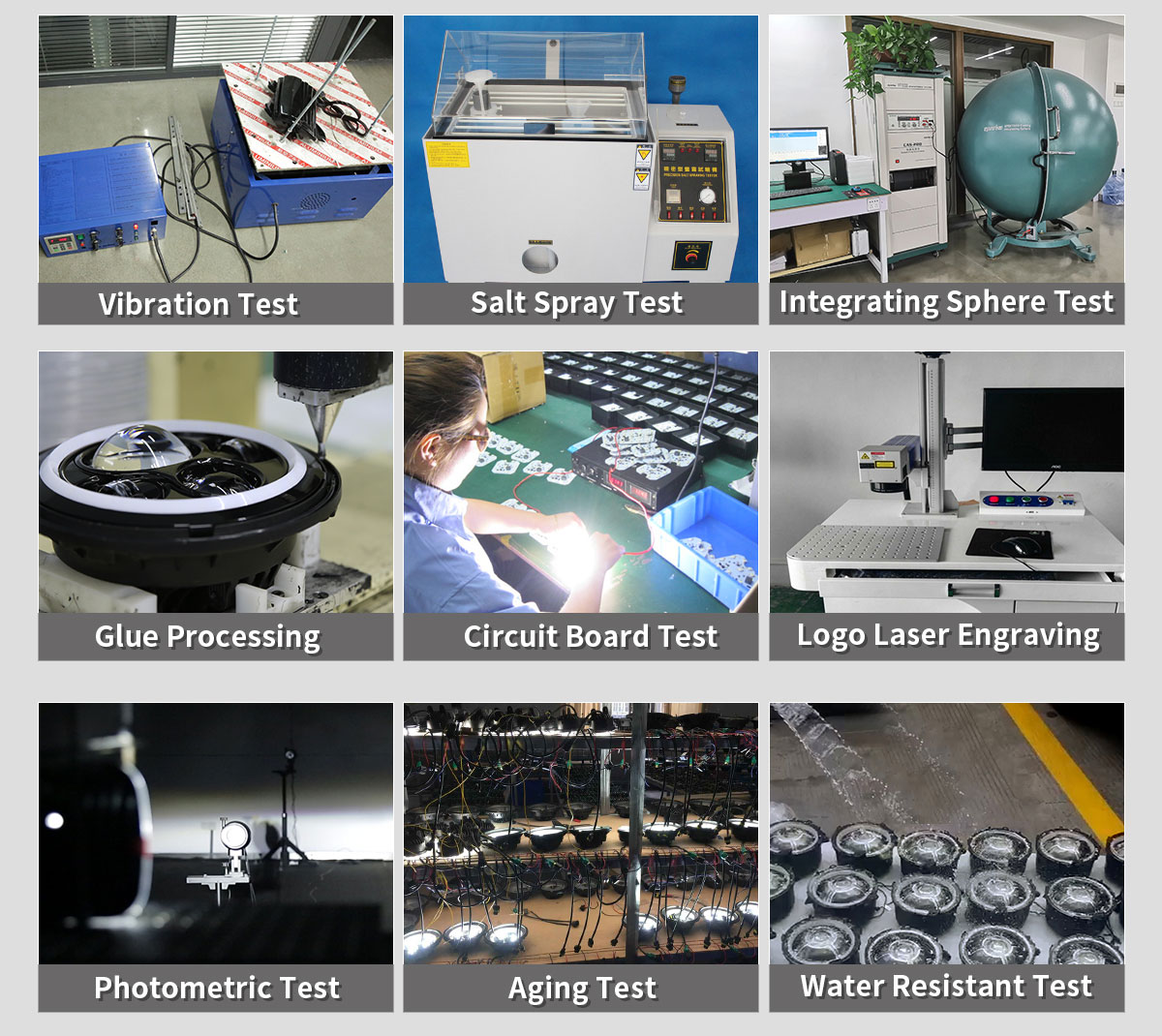 Maidir le Morsun
Is monaróirí gairmiúla agus soláthraithe ceannsoilse faoi stiúir é Morsun Technology, soilse eireaball soilse ceo do Jeep Wrangler, Harley Davidson agus níos mó. Comhlíonaimid Caighdeán Córas Bainistíochta Cáilíochta ISO9001:2000, tá deimhnithe CE, RoHS agus TUV ag an gcuid is mó dár gcórais soilsithe gluaisteán. Tá foireann forbartha taighde táirge iarratais chumhachtach LED againn atá comhdhéanta de shaineolaithe optúla, leictreacha, teirmeacha agus struchtúracha.
We have invested millions of dollars in building the automatic static-proof and dust-proof production workshop. With exact optical and thermal design, we are taking the leading position in the industry of led headlights, fog lights, tail lights, offroad light bars for Jeep Wrangler and Harley Davidson motorcycles. We are a professional manufacturer, supplier and exporter of LED auto Lighting systems in this field. Product quality, innovation, technology and customer service have made us one of the undisputed leaders worldwide in the field of LED auto lighting for Jeep Wrangler. Bearing the concept of "Quality First, Customer Paramount, Sincerity and Innovation" in our mind, our company has achieved great progress in the past years. Customers are welcomed to buy our standard products, or send us OEM requests. You will be impressed by our quality and service.